Studio 701 Digital Media Internship
Studio 701 Digital Media Internship Background    
The Studio 701 digital media internship is designed to meet two needs: #1. to provide PUSD high school students with an advanced digital media internship experience and #2. to produce professional quality videos showing how the District is meeting its mission of college, career, and life readiness. The internship was formed as a partnership between the Communications Department and Career Technical Education Department to share the exciting programs happening around PUSD with our stakeholders. The interns are chosen through an application and interview process every Spring. During the school year, they are tasked with producing a monthly video series called "Excellence in Education," highlighting interesting and innovative programs and partnerships at our schools. The stories are shot, produced, written, and edited by the interns and are released at school board meetings and online. Students get hands-on experience with top-of-the-line equipment and technology, access to mentors and field trips, and gain skills vital for future careers in digital media fields, and our stakeholders get to see the learning and innovation happening in our schools.
Studio 701 Digital Media Internship, The Commitment
Under the supervision of Ross Kallen, CTE digital media teacher, and Christine Paik, Chief Communications Officer, the internship class meets a minimum of five hours per week during the last period of the day and after school, due to the fact that students are coming from all over the District. Students are responsible for their own transportation. The class meets in Room 701 at Rancho Bernardo High School, hence the name "Studio 701." After the students are accepted into the internship, we work with them and their counselors to ensure their schedules can accommodate the class. Students will receive internship credit on their transcripts for enrolling in the class. We also hold a summer orientation and workshop in August to go over expectations, encourage team-building, and freshen up skills. The students start each month by planning a story (figuring out what program to highlight, who to interview, what footage is needed, what days to film). The following week, they are at a school or business site filming interviews and footage. Students have had the opportunity to go on-site to several local companies including Qualcomm, Mission Federal Credit Union, 10News, and Northrop Grumman. Afterward, during post-production, students transcribe, write, and edit the story. The video then airs during the Superintendent's comments during every Board of Education meeting. Please visit our YouTube Channel  to view our past "Excellence in Education" stories.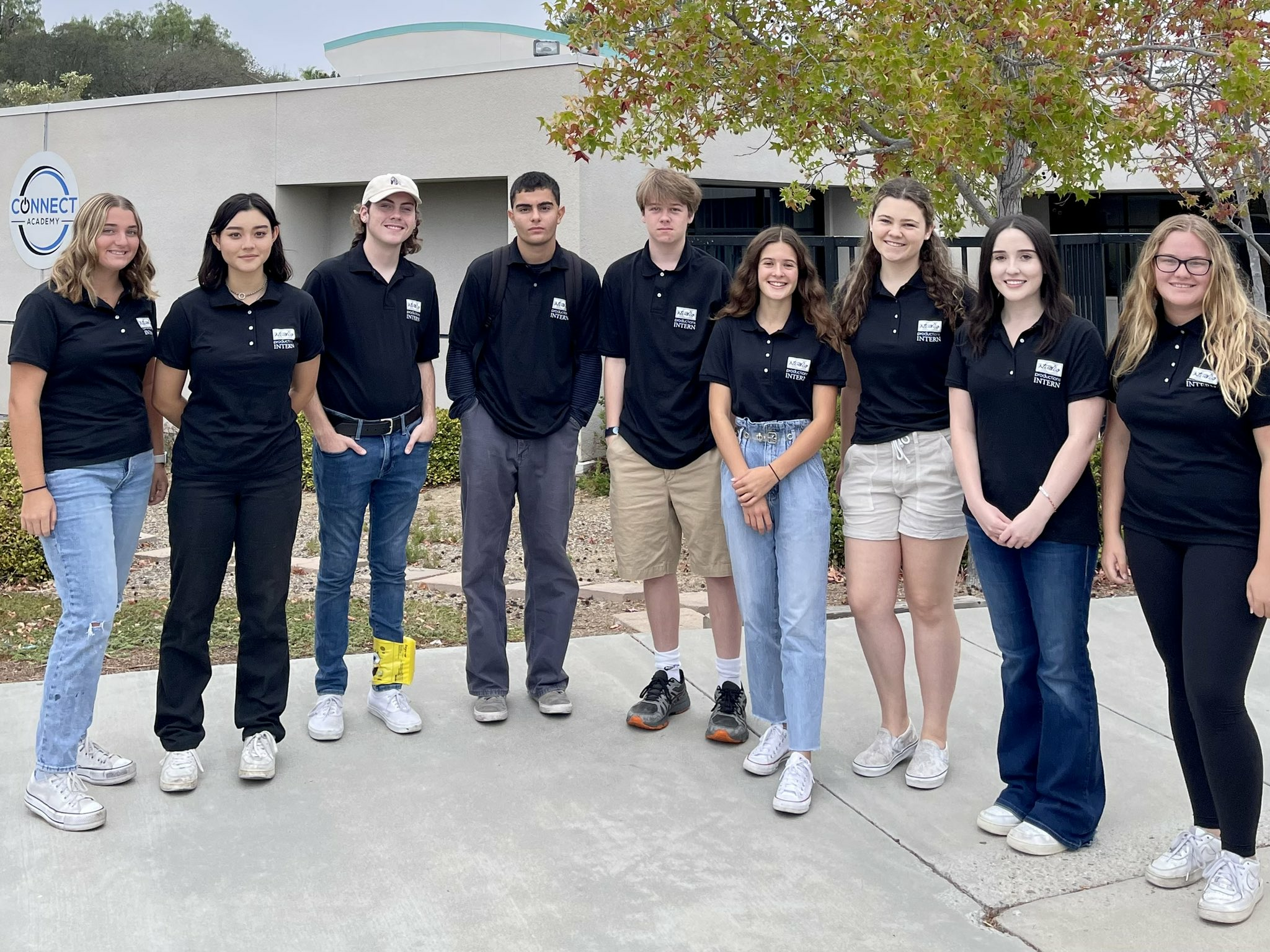 (2022-23 interns filming at Connect Academy, located at Park Village Elementary School)
(Field trip to 10News ABC Studios)
Studio 701 Digital Media Internship, Who Should Apply
Every Spring semester, a select group of advanced digital media students are chosen from high schools throughout Poway Unified. These students should have completed a CTE pathway for arts, media, or entertainment (such as digital media or broadcast journalism) at their school OR have comparable video experience. We are looking for students who are passionate about telling stories and creating professional videos to represent PUSD. You will get access to mentors, field trips, district and community leaders, and top-of-the-line equipment used by industry professionals (i.e. drones, Sony FX6, and Mobi-Pro cameras, etc.). You will also hone career-ready skills such as project management, meeting deadlines, collaboration, and of course shooting and editing. We ask that the student have an off roll at the end of their school day because we do meet twice a week at Rancho Bernardo (or off site at different shoot locations) usually towards the end of the school day. We will work with your counselor on scheduling if you are accepted into the internship.
To apply, fill out this Digital Media Internship application by April 7, 2023. 
The following materials will be needed to apply:
CURRENT RESUME (which includes any relevant class or extracurricular experiences)
LINKS TO WORK SAMPLES (such as videos or class assignments)
COVER LETTER (why you are applying to the internship and how it relates to your college/ career goals)
1 TEACHER RECOMMENDATION
The deadline to apply for the 2023-24 school year is Friday, April 7, 2023 at 4:30pm.